Sustaining Learning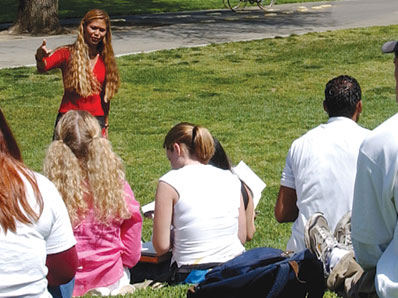 Sustaining Learning
UC Davis challenges, stimulates and inspires its students to transform the world with more than 100 undergraduate majors and 80 graduate and professional programs—the largest variety of any University of California campus. UC Davis students participate in research with pre-eminent scholars, and learn beyond the classroom through internships and study abroad programs. With more than 4,000 courses, UC Davis Extension provides continuing education opportunities to anyone interested in advancing their career and improving their world.
Even engineers and scientists need to be able to communicate clearly and effectively on the job. UC Davis developed a nationally renown writing program that requires all undergraduates to take both lower and upper division writing courses—a rarity in the UC system and among many other universities nationwide.
UC Davis also offers programs to help underrepresented students realize their dreams of a higher education. Students coming from the foster youth system receive one-on-one mentoring and support from faculty members in the Guardian Scholars program. An outreach program through the UC Davis School of Law aims to increase the diversity among lawyers by preparing college juniors and seniors from diverse backgrounds for law school admission and, ultimately, success.