Sustainable
2nd Century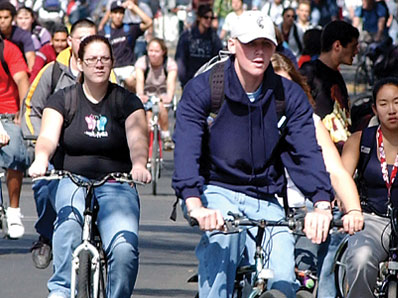 Sustainable 2nd Century
As UC Davis enters its next 100 years, the university has mustered the expertise, innovation and enthusiasm of the entire campus community to achieve a Sustainable 2nd Century.
From its founding a century ago as a pioneer in agriculture, UC Davis has leveraged academic and external collaboration to address challenges of relevance to the entire world. This interdisciplinary, outward-facing tradition has endured, extending across disciplines in the form of graduate groups, institutes and centers, and in the application of UC Davis research to the campus itself.
Now, the university's academic reach extends into all aspects of sustainability. Its comprehensive expertise and collaborative approach is providing knowledge to governments, industry and advocates for issues ranging from environmental stewardship to sustainable agriculture to health solutions for rural and developing communities.
Meanwhile, UC Davis is becoming a destination and model for sustainable change. The university is drawing experts and visionaries to learn from on-campus resources such as a pilot bio-digester; sustainable agriculture demonstration gardens; the California Lighting Technology Center; and projects under construction, such as the world's first brewery and winery that will achieve LEED platinum status, and UC Davis West Village, projected to be one of the first communities in the nation to achieve zero net energy on an annual basis.
UC Davis is pooling the determination and talent of students, faculty, staff, friends and supporters to meet today's needs and benefit future generations.