Sustaining
Health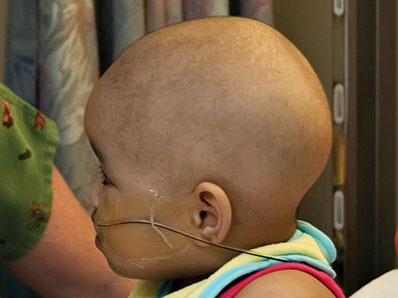 Sustaining Health
Global sustainability is intricately tied to the health of the people and animals who live upon the planet. UC Davis is a leader in human and animal health, from ensuring the delivery of life-saving nutrition to children and mothers in developing countries, to finding ways to stop global pandemics and treating animals affected by environmental catastrophes. The university's effectiveness is grounded in interdisciplinary research and its collaborations are often international in scope.
As health care becomes more complex, it requires more sophisticated systems and practitioners to optimally treat patients and manage care. The UC Davis Health System, already known for its excellence in teaching and treatment, has partnered with the Gordon and Betty Moore Foundation to launch the Betty Irene Moore School of Nursing. The new school is providing leadership to address society's most pressing health-care problems.
UC Davis pursues basic science research, such as in stem cells, that leads to the solutions of tomorrow, and it pursues ways to translate that science into new practices and tools. The university is also committed to understanding and solving health care disparities, such as in cancer survival rates across populations, to ensure the health of families and sustainability of communities.