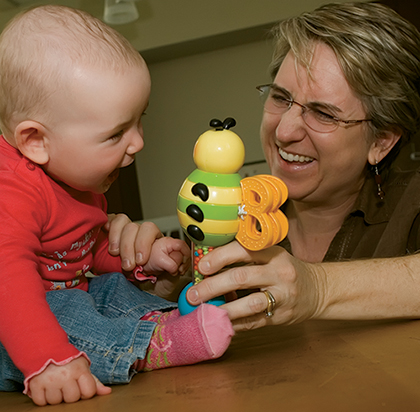 Lisa Oakes is just one UC Davis researcher who is gaining new insight into human brain development.
Early childhood research provides insight into our minds
From watching babies watch videos to examining the brain scans of adults listening to music, UC Davis researchers are exploring how the healthy brain works and are getting clues to conditions like autism and learning disorders.
Babies may not talk, but Lisa Oakes at the Center for Mind and Brain knows they surely can think. "Babies are really smart, but in a 'baby way,'" she says — they learn a lot about the world around them before they have words to describe it.
Meanwhile, psychologist Simona Ghetti found that toddlers are surprisingly introspective — even 3-year-olds can reflect on their thinking and are more confident when they are right than when they are not sure. And M.I.N.D. Institute psychiatrist Sally Ozonoff has found that year-old babies who do not respond to their own name are more likely to be diagnosed with autism at age 2.
Oakes, Ghetti, Ozonoff and colleagues at the UC Davis Center for Mind and Brain, the M.I.N.D. Institute and the Center for Neuroscience are gaining new insights into brain development. And that's good for everybody's mental health.
2007 BRAIN RESEARCH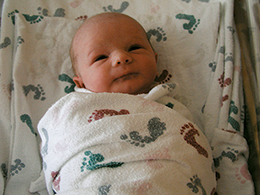 Babies who do not respond to their names may be at risk for autism
Year-old babies who do not respond when their name is called may be more likely to be diagnosed with an autism spectrum disorder or other developmental problem at age 2, making this simple test a potential early indicator for such conditions. These findings were the result of a study, led by researchers at the UC Davis M.I.N.D. Institute and published in the April issue of Archives of Pediatrics & Adolescent Medicine.
Virtual psychosis environment helps understanding of schizophrenic hallucinations
A major cause of frustration and alienation among people with schizophrenia is the inability of their therapists, family members and caregivers to fully understand their experiences, especially the auditory and visual hallucinations that often are symptoms of the disease. Now, to share that experience, UC Davis psychiatry professor Peter Yellowlees has helped develop an Internet-based virtual reality environment that simulates the hallucinations of schizophrenia patients. Users who have toured the environment indicated that it improved their understanding of the world experienced by people with schizophrenia.
UC Davis receives $21.8 million to find treatments that reverse a common cause of dementia
The same research team that discovered an age-related neurological disorder will now receive nearly $21.8 million from the National Institutes of Health to develop new treatments for it. The funding establishes the NeuroTherapeutics Research Institute at UC Davis, which is dedicated to finding interventions that reduce or eliminate the debilitating balance problems, tremors and dementia experienced by older adults who have FXTAS, or fragile X-associated tremor/ataxia syndrome. The five-year grant is the largest funding award in history to focus on this or any other fragile X-related disorder.